Home Inspection Services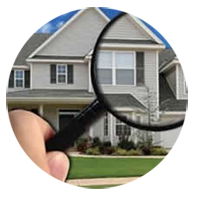 When an individual buys a home, or when a company secures a space for running and maintaining a business – it's smart to make sure that the property doesn't have any hidden problems or costly issues that were perhaps unknown or not revealed during the sales process.  This is where Grissom Inspection Services comes in – our licensed home inspectors can provide the experience you need, with professionalism you can trust in the areas of residential home inspection services, or commercial property inspections.
For Individuals: Home Inspection Partner In Buying a Home
When buying a new home, you need a partner you can trust, with the experience to know what to look for to help you avoid mistakes and truly understand what you are getting for the money you are paying. It's easy for the inexperienced home buyer to end up stepping into a situation that will be expensive and stressful – if the inspection is not completed properly.  You need a home inspection service to be honest and thorough when inspecting the property you are potentially going to buy.
The inspectors at Grissom Home Inspection Service have been through this, both personally and professionally for over twenty years – and understand what it's like on both sides. Our job is to report our detailed findings to assist you in avoiding or resolving costly concerns as you find the home of your dreams.
During our general home inspection, we have an exclusive process to efficiently inspect items in several areas:
Foundation – Interior and Exterior
The Parameter and Entire Exterior of the Home
All Electrical Systems
Roof and Gutters
Plumbing Systems
Basement, Attic, Insulation and Crawl Spaces
and More
We provide our valued clients with our detailed and comprehensive home inspection report, a variety of home maintenance and home-buying resources, and follow-up phone consultations, support and suggestions when needed.
For The Realtor: Home Inspection Partner In Selling Homes
Dallas area Real Estate professionals already know Grissom Inspection services is a professional home inspection service that will provide quality home inspections their clients.  With  proven track record and over twenty years combined experience in the Dallas area, our inspectors adhere to the highest industry standards, and understand how to communicate with clients and Real Estate agents – to provide expertise and support for solutions during property transactions.  Real Estate agents in Dallas, Plano, McKinney, Allen, Frisco – and surrounding areas have come to trust Grissom Inspection services for providing seamless and cost-efficient home inspection services to their clients.
Ready to get started? Contact us today.